About Parke County REMC
Our mission is to provide reliable energy and innovative services, at a competitive cost, to our member owners and communities.
Parke County REMC
Parke County REMC is a nonprofit and member-owned electric cooperative. Incorporated in 1937 by a group of rural citizens, it exists today to distribute quality service and electricity to the members in portions of six counties: Parke, Putnam, Clay, Vigo, Montgomery and Fountain.
​Parke County Rural Electric Membership Corporation (REMC), is located on the south side of the square in Rockville, Indiana. As your utility, we serve over 9,000 residential, commercial, and industrial members and are governed by a board of seven member-elected directors who oversee the general business affairs of the cooperative. Parke County REMC has full time employees that are ready to serve your electrical and member needs. Our wholly-owned subsidiary Parke Professional Services, LLC has full time employees that provide tree trimming service for REMC.
​As a member of the Touchstone Energy Cooperative, Parke County REMC is given the opportunity to tap into resources and support from over 750 other energy cooperatives across 46 states. The Touchstone Energy Cooperative is driven by four core values. These values include commitment to community, integrity, accountability, and innovation, which corresponds to our mission statement. But as a member of Touchstone Energy, we will continue to self-determine our own unique local presence within the communities we serve.
​Being a cooperative makes us different from other utilities. When an individual applies for service with Parke County REMC, they become a member of a cooperative. Our philosophy is "owned by those we serve." At Parke County REMC, we are dedicated to exemplary service to our member-owners.
---
Parke Professional Services, LLC
Parke Professional Services, LLC was created in September 2005 by Parke County REMC to clear trees from the electric distribution lines.  They currently have a goal of a four-year rotation in clearing trees from the rights-of-way. For more information on PPS, LLC call 800-537-3913 and ask for the Right-of-Way Supervisor.
Co-op Facts
Counties served: Parts of Parke, Putnam, Clay, Fountain, Montgomery and Vigo
Number of members: Aprox. 9,861
Number of meters; Aprox. 12,420
Miles of energized line: 1,865
Members per mile of line: 5.3
Meters per mile of line: 6.7​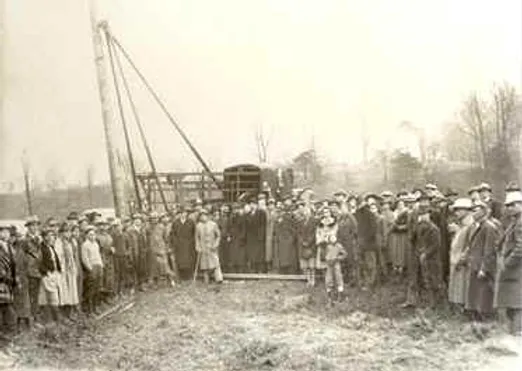 Setting the first pole in 1939